February Is American Heart Health Month!
Find this article at:
go.ncsu.edu/readext?768553
Celebrate American Heart Month: Join the #OurHearts Movement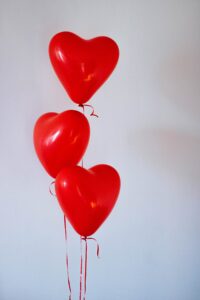 Did you know that people who have close relationships at home, work, or in their community tend to be healthier and live longer? One reason, according to the National Heart, Lung, and Blood Institute (NHLBI), is that we're more successful at meeting our health goals when we work on them with others. NHLBI launched the #OurHearts movement to inspire us to protect and strengthen our hearts with the support of others.
Here are some facts, how-to tips, and resources to inspire you to join with others, even if you can't be physically together, to improve your heart health.
Heart disease is a leading cause of death for both men and women in the United States. Most middle-aged and young adults have one or more risk factors for heart disease, such as diabetes, high blood pressure, high cholesterol, or being a smoker or overweight. Having multiple risk factors increases your risk for heart disease.
Why Connecting is Good for Your Heart
Feeling connected with others and having positive, close relationships benefit our overall health, including our blood pressure and weight. Having people in our lives who motivate and care for us helps, as do feelings of closeness and companionship.
Follow these heart-healthy lifestyle tips to protect your heart. It will be easier and more successful if you work on them with others,  including by texting or phone calls if needed.
Be more physically active.
Maintain a healthy weight.
Eat a nutritious diet.
Quit smoking.
Reduce stress.
Get 7-8 hours of quality sleep.
Track your heart health stats.
You don't have to make big changes all at once. Small steps will get you where you want to go.
Move more
Invite family, friends, colleagues, or members of your community to join you in your efforts to be more physically active:
Ask a colleague to walk "with you" on a regular basis, put the date on both your calendars, and text or call to make sure you both get out for a walk.
Get a friend or family member to sign up for the same online exercise class, such as a dance class. Make it a regular date!
Grab your kids, put on music, and do jumping jacks, skip rope, or dance in your living room or yard.
How much is enough? Aim for at least 2½ hours of physical activity each week—that's just 30 minutes a day, 5 days a week. In addition, do muscle strengthening exercises 2 days a week. Can't carve out a lot of time in your day? Don't chuck your goal, chunk it. Try 10 or 15 minutes a few times a day. NHLBI's Move More fact sheet has ideas to get and keep you moving.
---
New Dietary Guidelines Have Been Released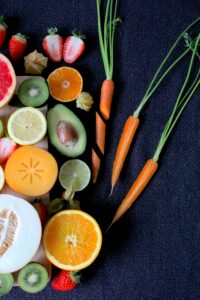 The 2020-2025 Dietary Guidelines were recently released. The Dietary Guidelines for Americans, 2020-2025 provides advice on what to eat and drink to meet nutrient needs, promote health, and help prevent chronic disease. This edition of the Dietary Guidelines is the first to provide guidance for healthy dietary patterns by life stage, from birth through older adulthood, including women who are pregnant or lactating.
The four Dietary Guidelines for 2020-2025 are as follows:
 Follow a healthy dietary pattern at every life stage.
Customize and enjoy nutrient-dense food and beverage choices to reflect personal preferences, cultural traditions and budgetary considerations
Focus on meeting food group needs with nutrient dense foods and beverages, and stay within calorie limits.
Limit foods and beverages higher in added sugars, saturated fat, and sodium, and limit alcoholic beverages.
For more detailed information on the Dietary Guidelines: 2020-2025 Dietary Guidelines
---
Online HAACP Training
Individuals working in the food industry who want to earn a HACCP Certificate of Completion can complete the online HACCP training program. This program teaches participants how to implement and manage the Hazard Analysis and Critical Control Points (HACCP) system, which was designed by the Food and Drug Administration (FDA) as a food safety management system for controlling food hazards. This course is recognized by the International HACCP Alliance. Upon completion of the course, with an overall final grade of 80% or greater, you will earn a
certificate of completion from the International HACCP Alliance
. This HACCP Certificate will be recognized domestically and internationally by food safety inspectors and auditors.
The course is available on demand, completely self-paced, and 100% online. This means you can work at your own rate to complete the course. You can stop at any time then come back later and pick up right where you left off. The course has approximately 20 hours of material to complete. Though, most people complete the course over a couple of days or weeks. For more information and to register for the course:
Food Safety Education & Training /Online HAACP Training >>
.
---
The SBA Paycheck Protection Program (PPP)
AgCarolina Farm Credit members: The Small Business Administration (SBA) has renewed the
Paycheck Protection Program
as a way to help businesses keep their workforce during the COVID-19 pandemic. This program authorizes up to $284 billion toward job retention and certain other expenses through March 31, 2021 or until government funding is exhausted. Applications for Loans are open until March 31, 2021. For additional assistance and to apply for a PPP loan, contact your
local AgCarolina Farm Credit loan officer
. The application can be completed electronically. If you would prefer this option, contact your local AgCarolina Farm Credit loan officer for further instruction.
---
Tuesday Tips: Estate & Legacy Planning Webinars
Montana State University Extension is offering a series on estate and legacy planning every Tuesday in February from 12-1 p.m. eastern standard time. If you are interested in joining any of these listening sessions you can register at the Montana State University Extension Estate Planning Tuesday Tips website >>.
February 2, 2021
Powers of Attorney:  Financial and Health Care



Learn how to grant powers to a designated agent so the person can make decisions about your finances or health. Learn about the Montana statutory form for a financial POA and the Model Health Care POA form.
February 9, 2021
Letters of Last Instruction: What to Include



Learning what to provide as essential information is needed to relieve your survivors (spouse, children or other family members) of needless hours of frustration and anguish as they search for needed important documents during a time of sadness and grief over your death.
February 16, 2021
Using Trusts to Accomplish a Variety of Estate and Legacy Planning Goals



Discover the advantages and disadvantages of living, testamentary, and Clayton Election QTIP trusts as estate planning tools.
February 23, 2021
What is Probate? What are the Duties of a Personal Representative?



Learn about the different versions of probate available in Montana, the duties of a personal representative, and how to reduce the cost of probate.
---