National Minority Health Month Weekly Update April 27
Find this article at:
go.ncsu.edu/readext?682797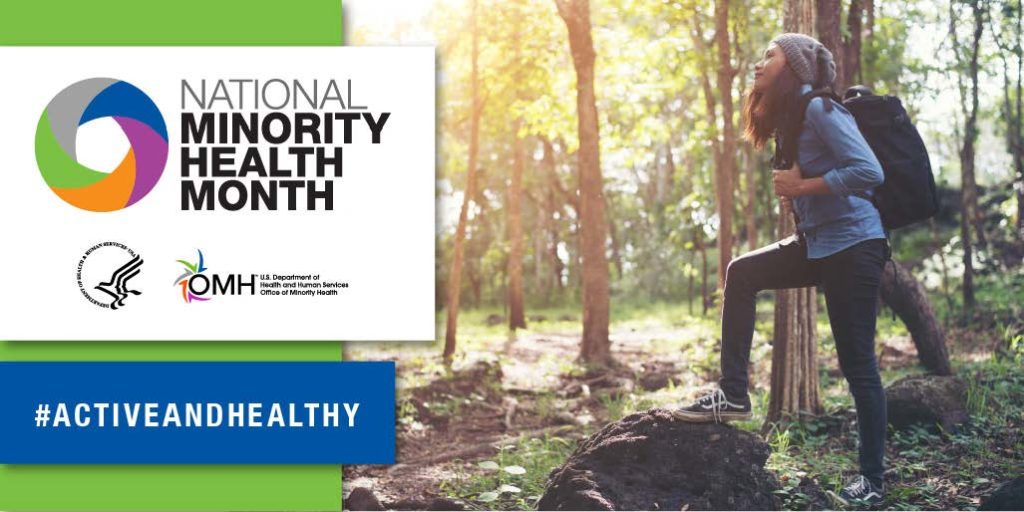 As we come upon the final week of April 2020 celebrating National Minority Health Month let's celebrate with tips from the daily themes below:
Wellness Monday: Our lives has been changed drastically over the past few weeks. Things has changed for everyone. I would like to take this moment to focus on the youth that have also been impacted by the changes that come with COVID-19. Not all children and teens respond to stress in the same way. Some common changes to watch for include
• Excessive crying or irritation in younger children
• Returning to behaviors they have outgrown (for example, toileting accidents or bedwetting)
• Excessive worry or sadness
• Unhealthy eating or sleeping habits
• Irritability and "acting out" behaviors in teens
• Poor school performance or avoiding school
• Difficulty with attention and concentration
• Avoidance of activities enjoyed in the past
• Unexplained headaches or body pain
• Use of alcohol, tobacco, or other drugs
Ways to support your child
• Talk with your child or teen about the COVID-19 outbreak.
• Answer questions and share facts about COVID-19 in a way that your child or teen can understand.
• Reassure your child or teen that they are safe. Let them know it is ok if they feel upset. Share with them how you deal with your own stress so that they can learn how to cope from you.
• Limit your family's exposure to news coverage of the event, including social media. Children may misinterpret what they hear and can be frightened about something they do not understand.
• Try to keep up with regular routines. If schools are closed, create a schedule for learning activities and relaxing or fun activities.
• Be a role model. Take breaks, get plenty of sleep, exercise, and eat well. Connect with your friends and family members.
Trivia Tuesday: Adults need a mixture of what 2 types of physical activity?
Work Out Wednesday: Go for a walk at a local park (while following social distancing rules). Franklin County Owens Park, located at 499 Massenburg Baker Rd., Louisburg has trails that are .5 miles, 3 miles and 5 miles.
Throwback Thursday: Think of something that your family enjoys doing but hasn't done in a while. Whatever that activity may be take some time to enjoy doing it once again.
Family Friday: Let's bake. Bake one of your family favorite goodies.
Spotlight Saturday: Family – Reach out to a family member that you have not spoken with in a while. Make a phone call, video chat, or maybe write a letter to check on someone during this time.
Empowerment Sunday: "There is no one giant step that does it. It's a lot of little steps." ~Peter Cohen
---
 COVID-19 Information: Disinfectants, Light & Heat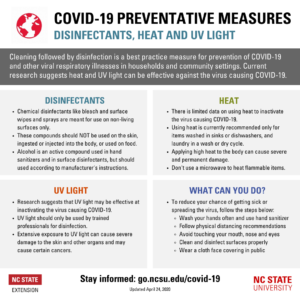 ---
COVID-19 Information: Bulk Poultry Sales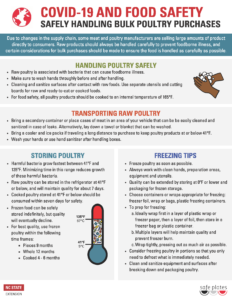 ---
---