January 2020 Horticulture News and Upcoming Events
Find this article at:
go.ncsu.edu/readext?648173
Consumer Horticulture News
Franklin Friends of Horticulture is a home gardening program offered by N.C. Cooperative Extension of Franklin County that will feature monthly classes, as well as offsite field trips to area points of interest. Based on practical information you can trust, the program is designed for anyone wishing to learn more about environmentally sustainable, science-based gardening. Topics that will be covered include building healthy soils, blueberry & small fruit production, starting vegetables & flowers from safe, sustainable lawn care practices, plant identification, and many more! Field trips will also be offered to regional gardening points of interest. You can choose which classes/field trips you would like to attend.
Classes will require a registration fee. Classes will be taught by Colby Griffin, Extension Horticulture Agent in Franklin County, NC State Extension specialists, and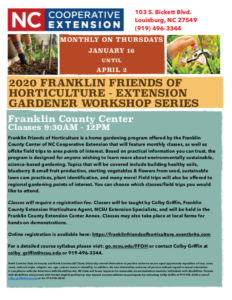 will take place in the Annex of the N.C. Cooperative Extension, Franklin County Center. Classes may also take place at local farms for hands-on demonstrations.
Classes will take place on the following dates: Feb. 13, March 12, March 19, April 2, April 16, June 4, July 9, Aug. 13, Sept. 10.
A detailed course syllabus may be found on our website at Course Syllabus >>.
Online registration >> is available.
For more information, contact Colby Griffin, colby_griffin@ncsu.edu or 919-496-3344.
---
Growing Potatoes in Your Home Garden
Well-known throughout the world for their versatility, potatoes have become a staple of many countries' cuisines. It's difficult to think of a holiday meal without a big batch of mashed potatoes on the menu. But did you know you can grow them in your own backyard?
As seen in the fan-favorite NC State Extension and UNC-TV partner project "Almanac Gardener," Area Agent and Environmental Educator Bill Lord explains the best way to grow potatoes in your garden.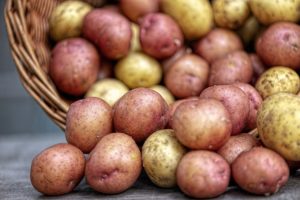 Tips for Growing Potatoes at Home
Choose the right kind of seeds for the soil and climate of your region.
Get certified seeds to guarantee they are disease and insect-free.
Cut a seed piece with at least two "eyes" and allow them to cure outside for at least a day.
Plant in soil with low PH (between 4.8 and 5.4) and cover with leaf mulch — the mulch will protect the potatoes from disease!
Make sure to watch out for Potato Beetles and get a Potato Beetle spray that will prevent them from ruining crops.
Watch How to Grow Potatoes Video!
---
NC Extension Gardener Plant Toolbox
The NC Extension Gardener Plant Toolbox contains detailed descriptions and photographs of 3,567 plants that grow in and around North Carolina.
The NC State Extension Gardener Plant Toolbox is based on evaluation of plant databases around the world, surveys of Extension agents, Extension Master Gardener℠ volunteers (EMGVs), plant database users, and focus groups.
Visit the NC Extension Gardener Plant Toolbox >>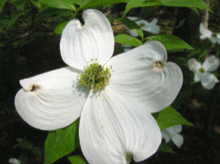 Based on themes gathered from this data we have created an innovative tool for gardeners, EMGVs, extension staff, landscape professionals, university staff, and students. The primary goal of the plant database is to help consumers select plants that will bring them joy, provide a valuable function in their landscape, and thrive where planted. Users are encouraged to consider year-round functionality and potential disease and insect problems as part of their selection process.
---
22nd Annual Eastern North Carolina Landscape Conference & Trade Show
Join us for these networking and educational opportunities!
Tuesday, February 4, 2020
Nash Community College – Brown Auditorium
522 N. Old Carriage Road
Rocky Mount, N.C. 27804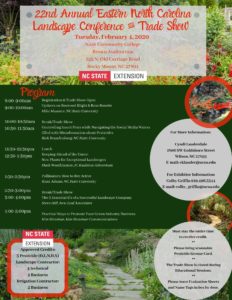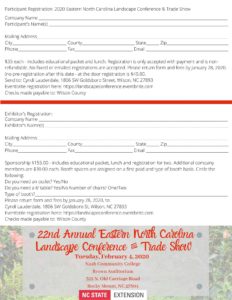 ---
Green & Growin' Education & Trade Show

General attendee registration for Education and Marketplace is now open.
Hotel Accommodations
After you register for Green & Growin' 20, don't forget to make your room reservation at the official show hotel, Sheraton Greensboro at Four Seasons. Sleeping rooms are offered at the rate of $137 per night plus tax.
Book your room today!
Note: We are not affiliated with any other properties and a broker is not working on our behalf. DO NOT reserve a room through a third party. Please use the link listed on our website.
Green & Growin' 20 Locations & Schedule:
 Greensboro Sheraton at Four Seasons
January 27-29, 8 a.m.–5 p.m. – EDUCATION
Special Events Center at the Greensboro Coliseum
January 29, 5–7 p.m. – KICK-OFF RECEPTION *NEW*
January 30, 9 a.m.–5 p.m. – MARKETPLACE
January 30, 4:30 p.m.–6:30 p.m. – HAPPY HOUR RECEPTION *NEW*
January 31, 9 a.m.–3 p.m. – MARKETPLACE
G&G Partner Program
As an exhibitor, you can increase your exposure by securing a spot in the 2020 Partner Program. A limited number of opportunities remain, so join the growing list of sponsors today! Download the online brochure for details or call the NCNLA office at 919.816.9119.
Don't Forget
Visit the Green & Growin' website for ongoing updates, including the full education schedule and information about our exciting new events.
---
Eastern NC Nursery Conference
February 11, 2020
Wilson County Agricultural Center
1806 SW Goldsboro St.
Wilson, NC 27893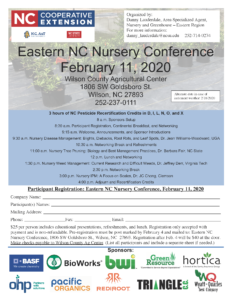 ---
Timing of Preemergent Herbicide Applications for 2020 – Apply Earlier!
From previous research, we know that crabgrass germinates with 24-hour mean soil temperatures average about 53-55 degrees at a 2 to 4-inch depth for several consecutive days. Because the climate in NC is quite varied (ski resorts in western NC and palm trees in eastern NC), the actual date of the critical soil temperature varies significantly. Traditionally, in the southeastern part of the state, we know that PRE herbicides should be applied and watered in by about March 1, in the Piedmont about March 15, and in western NC about early April (depending on the elevation). Based on observations of crabgrass emergence and data from NOAA (National Oceanic and Atmospheric Association), my recommendation for 2020 is for turfgrass managers to apply PRE herbicides two weeks earlier than previous recommendations.

---
Are Changes Coming for Atrazine & Simazine?
Atrazine and simazine are triazine herbicides registered for pre- and post-emergent control of numerous broadleaf and grassy weeds in turfgrass systems (including sod production, golf courses, residential lawns, athletic fields, school grounds, parks, roadsides, rights of way, and airports, among other sites). Additionally, they are registered in other systems including corn, sugarcane, conifers, orchard, vineyard, berry crops, and noncropland areas. Atrazine and simazine are commonly used herbicides due in large part to efficacy and costs.
---