Gardening Isn't Just for Grown-Ups, It's for Youth Too!
Find this article at:
go.ncsu.edu/readext?490487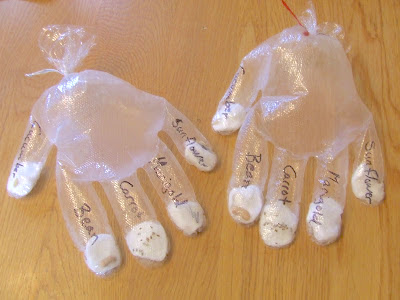 Gardening can be a relaxing activity done individually, but why not include your whole family. Get outside and enjoy the weather and some family time together. Youth learn and retain more when they have the opportunity to do the activity hands-on. Below are a few fun hands-on activities with instructions that can be done with the whole family.
Supplies:
plastic gloves (kind used by food servers; nothing fancy)
permanent marker
5 cotton balls
water
5 seeds (5 different varieties is optimal but 5 of the same variety would work)
bread bag twist tie
How To:
1. Write the names of each variety of seed on each finger.
2. Moisten the cotton balls so they are just wet.
3. Place seeds on the cotton ball. (Choose the number of seeds based on the size of the seeds. For example, a bean probably only needs one seed while carrots several.)
4. Slide the seed and cotton ball into the labeled finger. Do this for each variety.
5. Gently blow air into the glove and twist to seal in the air. Wrap a twist bread bag tie around the end to keep it closed.
6. Place or hang the glove in a warm window and watch what happens
7. Once the seeds have sprouted, you can cut off each fingertip and plant the cotton ball and new seedling in soil for further garden/plant learning.
Consider including a few great book to go along with the activity:
"Zinnia's Flower Garden" by M. Wellington
"Jack's Garden" by H. Cole
"From Seed to Plant" by Gail Gibbons
"The Magic School Bus Plants Seeds: A Book about How Things Grow"  by Joanna Cole
"Oh Say Can You Seed?" by Bonnie Worth
What better way to mark your new herbs and vegetables than with a new garden marker?
Garden Markers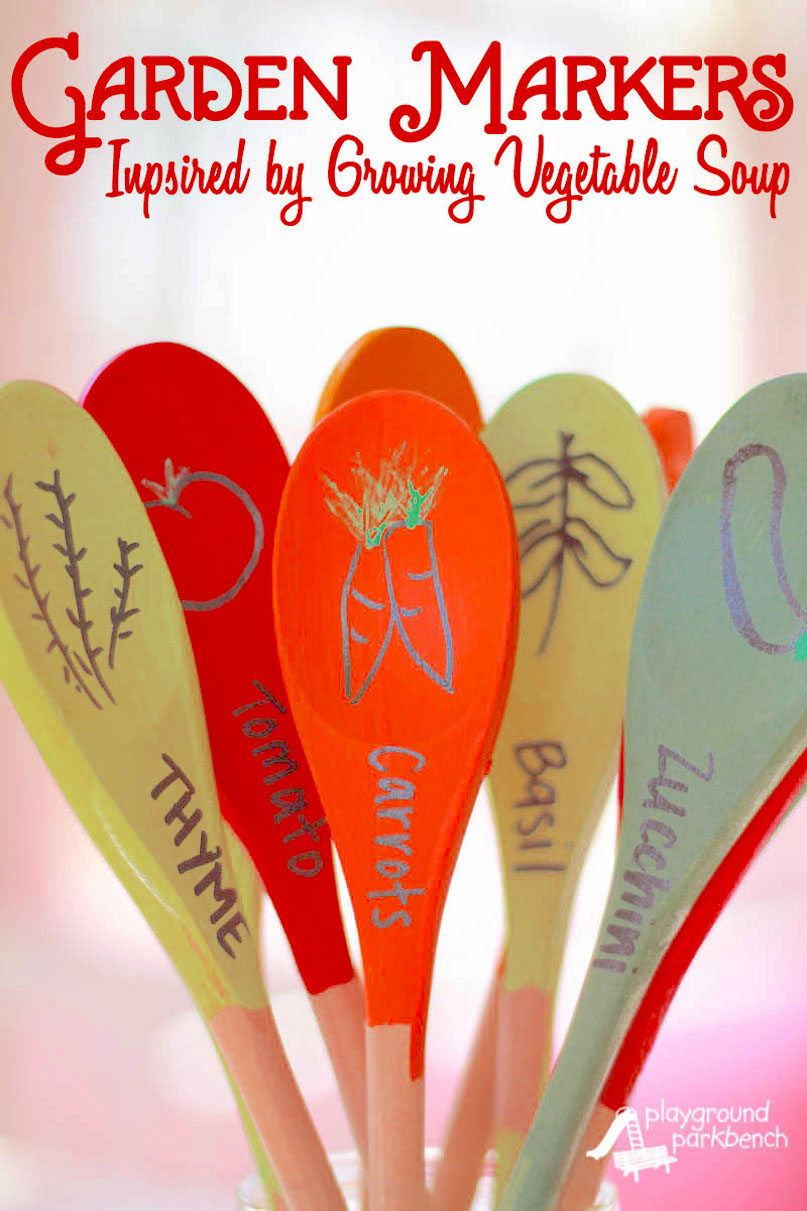 Supplies:
Wooden Kitchen Spoons
Patio Acrylic Paint, assorted colors
Foam Brushes
Sharpie Paint Pens, black and green
How To:
To make more permanent garden markers, I decided to use wooden kitchen spoons. You can find an assortment of sizes in multi-count packs. Next, find some Patio Paint. It is designed for outdoor use and is water and weather resistant, once set. Suggested colors; red, orange, goldenrod yellow, and a dark and light green, to match the list of vegetables we plan to grow. Lastly, you will need two oil-based, Sharpie paint pens oil-based, in black and green, to draw images and/or label your garden markers.
Consider reading "Growing Vegetable Soup," by Louis Ehlert.
Just because it may be cold outside doesn't mean you can't have some good things growing inside! Have fun with these activities. The food that you grow and cook on your own is the best food there is!