Value-Added Projects
2015 GRANT PROJECTS
Johnston County, Agent Brandon Parker
Howard Kostelecky, of Kenly has been experimenting with small scale aquaponics systems for raising fish and vegetables. He will be using the grant funds to build a larger greenhouse and expand the aquaponics operation.
Wayne County, Agent Tyler Whaley
Kim Davis of Fremont received a small grant to develop a new business, Greenhouse Transplant Tray Steaming Services. Davis realized that tray steaming had become a necessity for tobacco growers since the original process to control pathogens, using methyl bromide is no longer available. Control of disease pathogens can be achieved by tray steaming at 175 degrees for 30 minutes. Davis, who has been growing tobacco transplants since 1990 will offer the service to tobacco growers in the region.
Wilson County, Extension County Director Walter Earle
Alan Sharp from Sims is part of a fifth generation family farm. He received a small grant to market their pork and sweet potatoes to a new customer base through the development of Sharps Farm Sweet Potato Sausage. Alan is working with NCSU Food Science Department to formulate the final product and design the packaging.
2014 GRANT PROJECTS
Wilson County (Agent Billy Little)                                                                            
Deans Farm Market Commercial Kitchen Equipment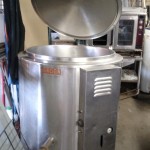 James Sharp operates a produce store known as Deans Farm, for retail sale of fruits and vegetables that he and neighboring farms produce. To help eliminate waste from over production and offer his customers more out-of-season options, he plans to build a certified kitchen in their farm store. They will purchase equipment to flash freeze and vacuum pack crops they grow, as well as the crops they purchase from other farms.
Update: James has been through the process of design and meeting all the requirements of health and business certifications for this project. He is now ordering the equipment, and installation will begin shortly. He has received the kettle pot and convection oven, he is waiting on the vacuum sealer. At that point it will be peas, butterbean and sweet corn season so he will quickly start blanching and freezing these items for resale.
Forsyth County (Agent Mary Jac Brennan)                  
Sheep and Wool Equipment Expansion Project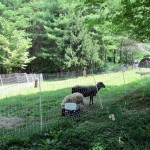 Laura Frazier of Kernersville has built a cottage industry around discarded fleece. In addition to her own sheep, she collects the waste wool from two commercial sheep operations and re-purposes the wool into art supplies for artists and for clothing. She markets the wool at local markets and over the internet. Frazier plans to buy wool processing equipment and Electronet fencing to facilitate a more efficient system for rotational sheep grazing.
Update:  See Laura's blog page: FarmGirl Arts
Laura's blog page is very engaging and does a beautiful job of explaining how she is using the grant money…
Laura originally planned to purchase a sock knitting machine, but opted instead for a tabletop needle felting machine. The needle felting machine offers more diversity. A limited list of what can be created includes scarves, hats, vests, pillowcases, placemats and tapestries.
A scarf will sell for $50.00 – $130.00 based on research conducted on equivalent scarves on www.etsy.com, the most likely marketing platform in addition to the farmers and crafts markets. Moreover, the product diversity that can be made from this machine ensures an ease of attracting repeat patronage.
Finally, Central North Carolina lacks a needle felting machine for rent. Although they are rented by artists, fashion design students, as well as other fiber aficionados in other locations, the Felt loom closest to Forsyth County that is available by the hour is in Weaverville, nearly a three hour drive. By renting time on the Felt crafts for a fair-market rate, Farm Girl Arts will foster the creativity and income-generating potential of local artists and farmers, as many sheep, alpaca and llama farmers can also benefit from the fiber processing abilities of the Felt crafts.
Stokes County (County Director Debbie Cox and Agent Randy Fulk)                
Plum Granny's Farm Community Kitchen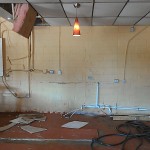 The Ferguson's of King will develop a certified kitchen that can be used for the production and development of value-added products from their farm. The Ferguson's will rent the kitchen to other local farmers and small food-based businesses in the area.
Update:  The project is moving along at a pace that should be expected for a rather complex project that requires review, input and approval from a variety of governmental entities. Cheryl has provided an extensive and detailed report.
The Fergusons purchased the property that will house their community kitchen
They identified a contractor and are moving into the stage of finalizing layout and determining requirements for ventilation, heating, cooling, plumbing and electrical systems; they will be meeting with Stokes County Planning and Inspections Department next week.
The unanticipated closure of a local bakery in April provided an opportunity to purchase some equipment for the kitchen.
They are in discussions with their insurance agent, Johnson Farm and Agribusiness Insurance, and are close to finalizing the insurance coverage for the community kitchen.
Surry County, Agent Joanna Radford
Bullington Agripack
Chad Bullington of Pinnacle, farms the same land his parents, and grandparents farmed, but he believes that change is a necessary part of farming. With the grant funds he will purchase equipment to establish a bagging operation to sell small bags of corn and poultry litter, to a niche market of buyers who do not need bulk orders from the mill.
Update:  Chad Bullington will begin bagging deer corn when the season presents itself in October. His corn has been planted and is well on its way to a bountiful year. Chad has researched the hopper needed for the project and discovered that it will be more efficient to build a hopper than to import one. He is working on the hopper now. (This is largely due to the reduced grant amount.)
Business cards and invoices have been designed and created. Chad has discussed the bag cost with Hawkins Bagging Company. He is still determining the quantity that will need to be ordered as well as the size. (The size must fit the hopper.) He will be purchasing scales for weighing the product in the next few weeks.
Chad has been bagging corn for some time, and the new system will allow him to do it more efficiently. However, he has run into some problems developing a formula for bagging poultry litter that meets the appropriate regulations. Surry County Soil and Water, N.C. Cooperative Extension, and NC State University Animal Science specialists are working together to further the bagging and selling of the poultry litter. This should be completed in the next month. Litter should be available for bagging in December. At this time, it appears the poultry litter will be sold as a soil amendment.
There are no pictures at this time.
Yadkin County, County Director Colleen Church                                                 
Farm to Kitchen Dried and Frozen Prepared Foods from Sanders Ridge Farm      
Cindy Shore is using the grant funds to purchase a commercial Dehydrator and Vacuum-Sealer to produce a value-added product line of both dried and frozen packaged ready to prepare soup mixes, vegetable side dishes, vegetable chips, teas, smoothie mixes, and herb/spice seasonings from the vegetables and herbs produced on their established organic farm.
The 25-acre farm has been in her husband's family since the early 1900's. His Great Aunt and Uncle grew tobacco and operated a diary. For the past nine years they have produced a wide variety of organically grown vegetables, herbs and flowers. They received the USDA Organic Certification for the entire farm in 2007.
Update: Cindy has purchased a commercial dehydrator and scales. She has been perfecting drying times and fine tuning recipes. When I visited, she was working on a batch of kale chips with a cheese flavoring that she has developed. She explained how she has learned to package them in small amounts because quality is lost after a bag is open for too long. The finished product was quite tasty.
She plans to try beet chips as well and will begin working with green peppers, tomatoes and herbs as these come in. As more ingredients become available, she will begin work on soup mixes and spice blends. Her kale chips are organic and vegan; she also plans to produce and market raw foods. She wants to offer drying services to other local farms or purchase their surplus to use. She is also very interested in finding a local meat source to produce jerky.
Forsyth County (Agent Mary Jac Brennan)                                                                 Initiating a New Market Plan by Creating a Value-Added Product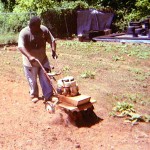 Livingstone Flowmeh-Mawutor has been growing Moringa, an herb supplement, on a small patch of land on a family farm in Forsyth County. Moringa is an important food source in some parts of the world because it can be grown cheaply and easily and the leaves retain many vitamins and minerals. After three years of testing, Livingstone is preparing to expand production of dried Moringa leaf capsules. He will use funding to purchase processing equipment and supplies.
Update:  Livingston has been working with a marketing firm to develop his logo and website design and marketing materials. He has also working on product testing and labeling.
Was the information on this page helpful?