Postponed – Franklin County Arbor Day Tree Giveaway!
Find this article at:
go.ncsu.edu/readext?657010
Arbor Day in North Carolina will be March 20th this year. Take time to celebrate by planting a tree. Trees are a wonderful addition to any landscape not only by providing an aesthetic complement but by increasing the quality of life and improving overall health. Since trees are such a large visible addition to the landscape, care must be taken to ensure proper growth and development. 
Trees come in many different packaging styles including burlap wrapped, container, and bare root, thus details in planting methods vary based on the packaging in which you receive your tree. Regardless of the packaging, the most successful trees begin with proper transportation and planting. Plant parts including roots, stems, and foliage should be protected from damage during transport.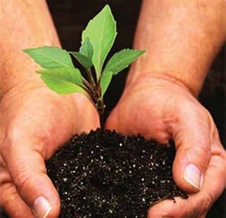 When selecting your site, take into consideration the size of the tree at maturity and select a space that will give plenty of room for growth. Avoid planting your tree near permanent structures such as power lines or homes because in time costly repairs or damage could result. After you have made your site selection, digging the hole for your new tree is most often the problem individuals have when planting their new landscape addition. Holes are either too deep, or too narrow to allow the tree to grow and flourish. The depth of the hole in general should be no deeper than originally grown and the width of the hole should be at least three times the diameter of the root ball or container or the spread of the roots in the case of bare root trees. This is to allow adequate room for new roots to flourish and take hold.
The Franklin County Tree Giveaway scheduled for Saturday, March 21,  has been postponed until further notice. For more information, contact Colby Griffin, colby_griffin@ncsu.edu or 919-496-3344, or call N.C. Cooperative Extension, Franklin County Center, 919-496-3344.