24th Annual Horse Farm Tour – Friday, August 2, 2019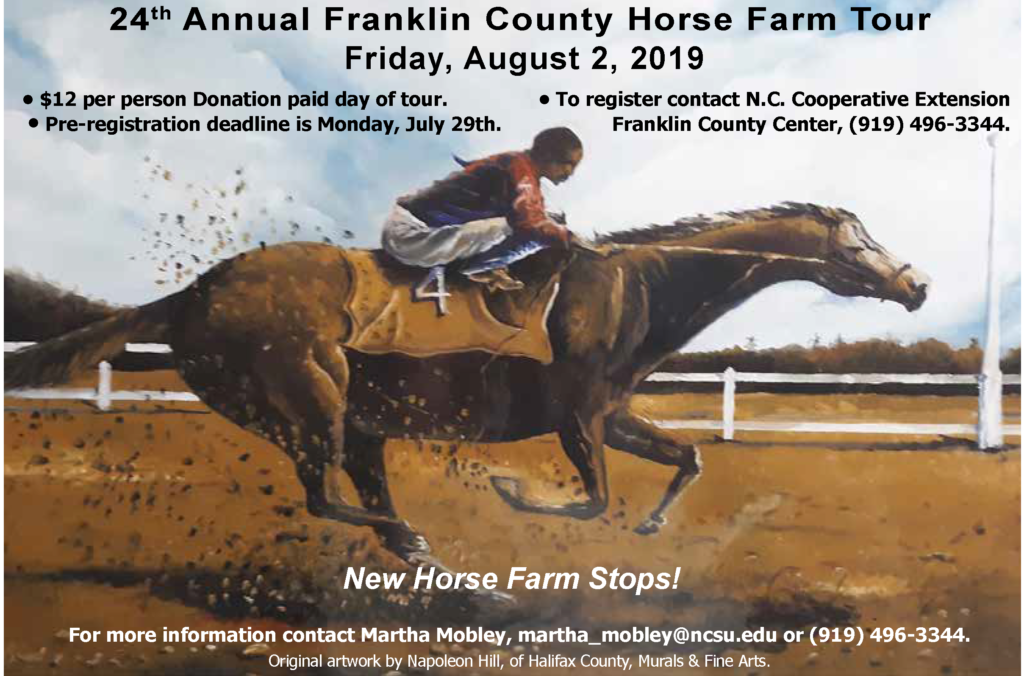 What: 2019 24th Annual Horse Farm Tour
When: August 2, 2019, 7 a.m. – 2 p.m.
Where: Franklin and Wake Counties
Area horse owners and equine enthusiasts will have the opportunity to visit three horse farms in Franklin and Wake Counties on Friday, August 2nd. The annual driving tour will begin with registration at 7 a.m. and should conclude around 2 p.m.
Participants should register from 7 – 7:30 a.m. in the parking lot of the Agricultural Services Building,103 South Bickett Blvd. (401/56 East), in Louisburg. In addition to the equine farms being visited, educational programs will be conducted at each stop, including "Update on trailer/truck regulations", "Fire ant ID and control in pastures", "Franklin County's new Comprehensive Development Plan" and much more.
A delicious barbecue beef brisket lunch with all the trimmings will be served at the last stop, the Franklin County Center of N.C. Cooperative Extension. After lunch, the recent documentary, "Black Country" will be shown with the featured horsemen present. $12 donation per person to be made day of the tour.
To register, contact N.C. Cooperative Extension, Franklin County Center, at 919-496-3344, before July 29th to reserve a lunch.
For more information, contact Martha Mobley, martha_mobley@ncsu.edu or 919-496-3344.
Contact martha_mobley@ncsu.edu or 919-496-3344 for accommodations related to a disability.
Participants will be asked to carpool to the various stops on the tour.
Read Brochure >>  2019 24th Annual Horse Farm Tour1