June Horticulture News
What's Blooming Now?
Elderberry & Trumpet Vine
Blooming now along roadsides and ditches is Sambucus canadensis or Elderberry. It is a native plant and has white lace-capped blooms late spring through summer. Elderberry fruit are edible, extremely nutritious and are high in antioxidants.
Another native blooming now is Campsis radicans or Trumpet vine. This vine can reach upwards of 40 ft twining around large trees along the edge of forests. It has elongated, orange, tubular flowers that are a delicacy for hummingbirds.
Read more about Elderberry
Read about Elderberry
Read about Trumpet Vine
Turf Topic: Lawn Burweed
If you like to stroll around your lawn barefoot during late spring and early summer then you may have unfortunately stumbled upon, or better yet, impaled the soles of your feet against the spiny seeds of lawn burweed. Lawn burweed is a winter annual weed meaning it begins growth in the fall and slowly grows throughout the winter months. As temperatures warm during spring, lawn burweed resumes rapid growth and quickly goes to seed. The immature seeds aren't the problem; the mature seeds are what cause pain and are typically an issue early May through June & July. The plant then dies during the summer but the spiny seeds persist waiting to sprout as fall approaches.
Read about it
Extension Gardener Newsletter – Summer Piedmont Edition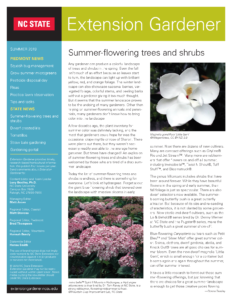 Growing Rhododendrons in North Carolina 
Plants, Pests & Pathogens
Join NC State Extension Specialists, Extension Agents, and other experts in the horticultural field for this free monthly interactive webinar broadcast live via ZOOM. The webinars are also recorded and can be accessed via YouTube as well. The meeting for June will be June 25 with the topic "Current Pest and Plant Disease Issues in NC."
Landscape Color & Professional Field Day  
Read more
Wednesday, June 26, 2019 – 9 a.m.–4 p.m.
Presented by NC State University's Department of Horticultural Science and the JC Raulston Arboretum.
Join us for the 2019 Landscape Color and Professional Field Day for a day filled with helpful information for green industry professionals. The subject matter is across the board, giving professionals a wide variety of interesting topics, they'll find useful in their daily tasks.
New Pest Alert! Spotted Lanternfly
Read More NC Forest Service info
Read more NC Dept. of Agriculture Info
It is only a matter of time before this pest makes an appearance in North Carolina. This invasive planthopper attacks over 70 species of plants. See the attached info sheets from the NC Forest Service & the N.C. Dept. of Agriculture & Consumer Services for more information.