Carolina Meat Conference Registration Now Open
Posted On

June 26, 2019
NC Choices Presents  2019 Carolina Meat Conference: The Future of Local Meats 
Don't Miss the 2019 Carolina Meat Conference: Make Connections That Take Your Business to the Next Level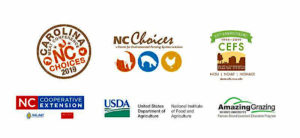 EXPECT: Over 400 local meat farmers, butchers, James Beard award-winning chefs, and allied local meat-makers and entrepreneurs.
25+ local meat sessions including butchery, whole animal utilization (demo and hands-on tracks), showmanship in meat, charcuterie, and a wealth of farm-to-business sessions for local meat farmers and food professionals.
60+ nationally recognized speakers.
20+ trade show sponsors.
WHEN: October 6 – 7, 2019
WHERE: Downtown Charlotte Marriott City Center, Charlotte, NC
*N.C. Cooperative Extension Pre-Conference, October 5, 2019*
Registration Opens July 9 – Scholarships Available
The Carolina Meat Conference moves to the Marriott City Center in downtown Charlotte!!
PLUS, FOR THE FIRST TIME EVER, we're partnering with the Center for Environmental Farming Systems (CEFS) and the Piedmont Culinary Guild for Farm to Fork Picnic in the Garden!
A ticket to the Carolina Meat Conference automatically grants you admission to join over 300 other local food lovers for a delicious farm-to-table supper at the Daniel Stowe Botanical Garden on October 6, 2019.
Refer a Friend 1/4 Beef Box Giveaway
Refer a friend to the Carolina Meat Conference and get your name entered to win a 1/4 beef box from NC's Apple Brandy Beef!
Spread the word about the conference to friends through email, social media, and word of mouth! The more people who said you referred them in their registration check-out, the greater the chance of winning!
Curious About the Speaker and Session Line-Up?
Want to be a Part of the Future of Local Meats Conversation?
Check out the Cutting Edge Line-Up July 9, 2019!
Visit Carolina Meat Conference website for Details
Interested in supporting the 2019 Carolina Meat Conference?
Check out sponsorship opportunities on our website, or contact Susan Jones at carolinameatconference@gmail.com.