Regional Forestry Meeting and Tour
Franklin Regional FORESTRY Meeting and TOUR will take place
Thursday, January 17, 2019 (snow/ice date: January 24), at the N.C. Cooperative Extension, Franklin County Center Annex.
Be a Part of Your Woodland Landowner Legacy in Your Community
Learn how you can make a difference on your land for future generations.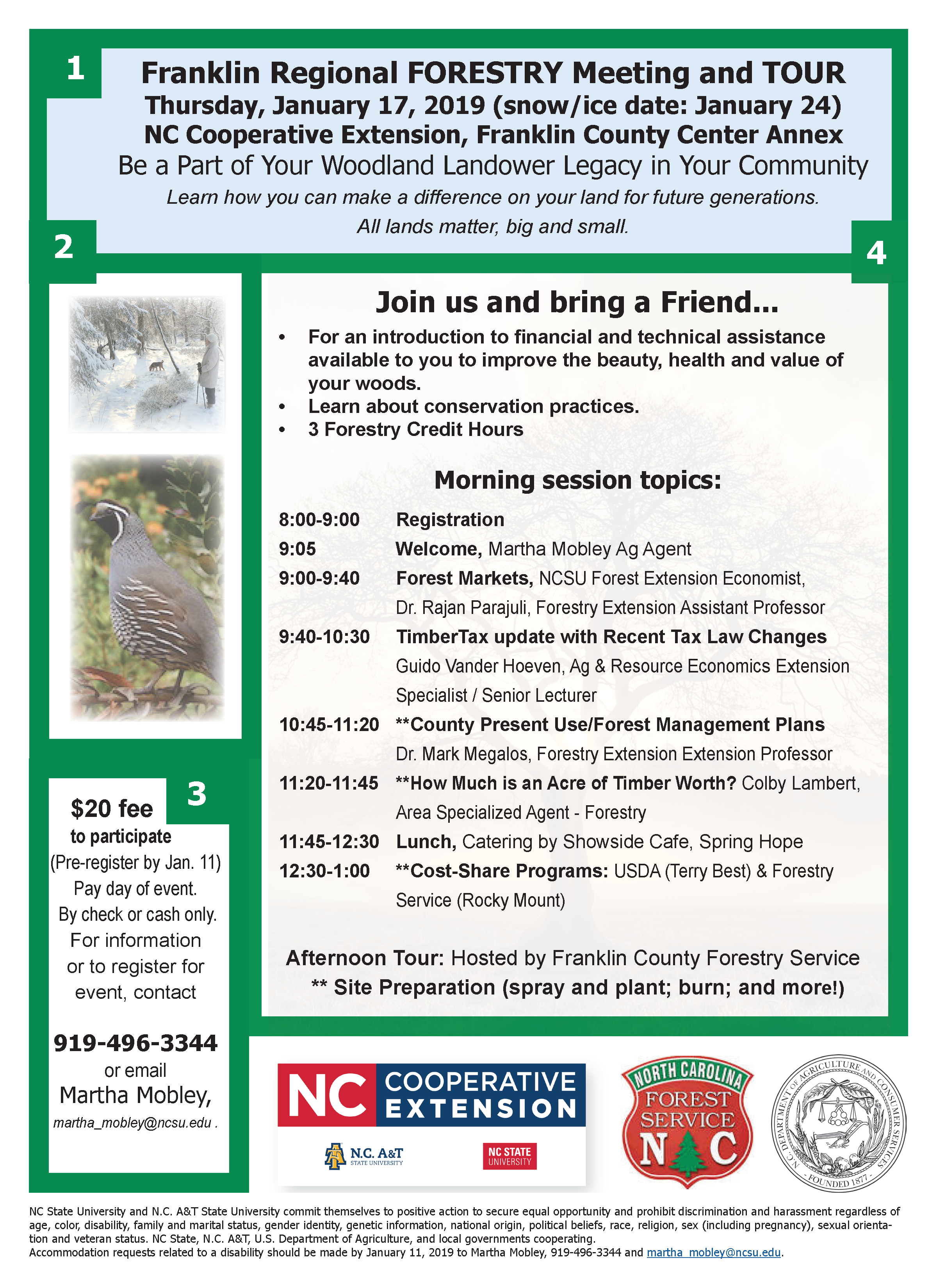 Join us and bring a friend for an introduction to financial and technical assistance available to you to improve the beauty, health, and value of your woods
Learn about conservation practices
Forestry Credit Hours – TBA
Morning session topics:
8–9 a.m. Registration
9:05 a.m. Welcome, Martha Mobley Ag Agent
9–9:40 a.m. Forest Markets, NC State University Forest Extension Economist,
Dr. Rajan Parajuli, Forestry Extension Assistant Professor
9:40–10:30 a.m. TimberTax update with Recent Tax Law Changes
Guido Vander Hoeven, Ag & Resource Economics Extension Specialist / Senior Lecturer
10:45–11:20 a.m. **County Present Use/Forest Management Plans
Dr. Mark Megalos, Forestry Extension Extension Professor
11:20–11:45 a.m. **How Much is an Acre of Timber Worth? Colby Lambert, Area Specialized Agent – Forestry
11:45 a.m.–12:30 p.m. Lunch, Catering by Showside Cafe, Spring Hope
12:30–1:00 p.m. **Cost-Share Programs: USDA (Terry Best) & Forestry Service (Rocky Mount)
Afternoon Tour: Hosted by Franklin County Forestry Service
** Site Preparation (spray and plant; burn; and more!)
$20 fee to participate
(Pre-register by Jan. 11) Pay on the day of the event.
By check or cash only.
For information or to register for event, contact
919-496-3344 or email
Martha Mobley, martha_mobley@ncsu.edu.