4H Community Service Project-Mazie's Mission for Duke Children's Hospital
Mazie's Christmas Mission
Mazie's Mission was started in 2015 after she had brain surgery at Duke Children's Hospital for Chiari Malformation. Mazie wanted to give back to the hospital that had done so much for her. She was concerned that many children will spend their holiday hospitalized, Mazie wanted to do something to help make that stay a little brighter, so Mazie's Christmas Mission for Duke was born. This was the idea of a simple little 7 year-old girl who wanted to do something for others. Our first year, we filled my minivan, last year we had to go bigger with a 25-foot enclosed trailer. This year her goal is to fill the trailer from top to bottom. How can you help…? SIMPLE, just purchase items from the wish list and place them in a collection box at the Franklin County Cooperative Extension office, 103 S. Bickett Blvd., Louisburg, NC by December 11th. Our family will take care of the rest, picking up all items by December 12th.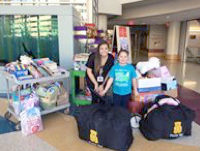 Mazie will deliver the wish list items December 15th, and this year is even more special because our family along with a few friends are going to be elves. We will be assisting families as they shop for their children at no cost! Word is we even will get to help the big man himself, Santa gather items for the kids too.
Thanks in advance for wanting to help with Mazie's project, I'm just the mom who does the updates, Facebook posts, driving etc. Mazie is the person behind this, all of this was her idea, I'm just here to help. We love Duke dearly, and over the past two years have spent a lot of time there. Mazie has been diagnosed with 3 illnesses that currently have no cure – Chiari Malformation, Ehlers Danlos Syndrome and Epilepsy. So Duke holds a very special place in our hearts because they are not giving up on my girl and give us hope for a normal life for her. We are so very blessed to be so lucky to have such an amazing medical center close to home, many families travel from long distances for the care, hope and support that Duke provides.
Thank you again for supporting Mazie's Mission for Duke.